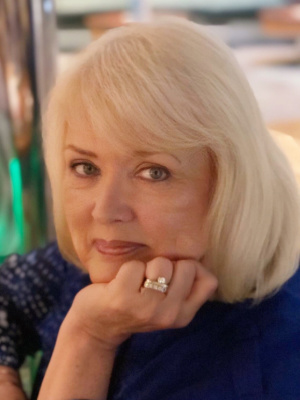 NOREEN J. FOX (née Christie) age 76, devoted wife for 45 years of late husband Charles "Charlie" Fox; cherished mother of Charles Jr. "Chad", Ret. U.S.A.F., Heather M. Fox (husband Aaron Bernardo), and Hillary M. Fox (husband Matthew Daily); loving grandmother "GG" of Sydney Daily and twins Kherington and Greenleigh Fox-Daily; beloved daughter of the late Marie (née Slye) and Thomas Christie; dearest sister to Thomas Christie Jr. (wife Sandra) and Sharon Christie; loving sister-in-law of the late Andrew Beets, Conrad Fox, Delores Wenrich, and Joann Smisek; daughter-in-law of the late Helen and Conrad Fox; dear aunt, great-aunt, cousin and friend of many; and adored by her loyal grand dogs Autumn, Piper and Sammy.
An Army brat born on July 28, 1946, her extensive world travels started with her early school years in Giessen, Germany, junior high at St. Thomas Aquinas in Chicago, high school in Orleans, France, and college at the University of Maryland in Munich. There, she met her future husband and life partner Charlie Fox, and they were married in 1968 at St. Cletus Catholic Church in La Grange, Illinois. Later on, she and Charlie were active parishioners at St. Louis Church in Cleveland Heights as well as a leadership couple within Marriage Encounter, where they forged lifetime friendships.
Noreen chose to raise her family in Cleveland Heights, Ohio, and had a 30-year career at Cleveland Heights City Hall. She started as a housing consultant, working diligently to maintain fair housing practices and racial integration in the city, and retired as the city's public relations coordinator, writing press releases, proclamations, and speeches. She designed and created the city's first website and was the founding editor of Focus Magazine that is currently delivered monthly to all Cleveland Heights residents.
Noreen had a passion for the arts & travel. She cherished the trip to Paris with her beloved Charlie. She traveled with her friends and family (Italy, France, Monaco, Aruba, Christmas Markets in Germany & Amsterdam and cruising the Caribbean among her favorites), joined the Terrace Garden Club, volunteered at Christ Child Society, and opened a booth at Antiques and Uniques antique mall. She will be remembered for her creative eye for beauty, her award-winning table settings, her deep love for her children, grandchildren, and many nieces and nephews, and her boundless generosity, thoughtfulness, and meticulous attention to detail. Noreen loved her friends dearly and they were an important part of her life. Noreen especially enjoyed her late night Five Crowns and Rummikub gatherings with friends.
Noreen was a woman of integrity, honor and compassion whose memory will be cherished forever. Her selflessness, and many acts of kindness defined her character. Pancreatic Cancer took both Noreen and her late husband, Charlie, way too soon and too fast. Contributions may be made to the family HERE; a fund will be established in Noreen & Charlie Fox's memory to fund familial pancreatic cancer research.
Cremation by DeJohn Crematory. Relatives and friends are invited to meet for the Mass of Christian Burial Friday, January 20, 2023 at 10 AM at St. Ann Catholic Church of Communion of Saints Parish, 2175 Coventry Rd, Cleveland Hts. Family will receive friends to pay tribute to and celebrate the life of Noreen at THE DeJOHN-FLYNN-MYLOTT FUNERAL HOME OF SOUTH EUCLID, 4600 MAYFIELD RD. (just east of Green Rd.) THURSDAY, JANUARY 19 from 3-5 and 6-8 PM.